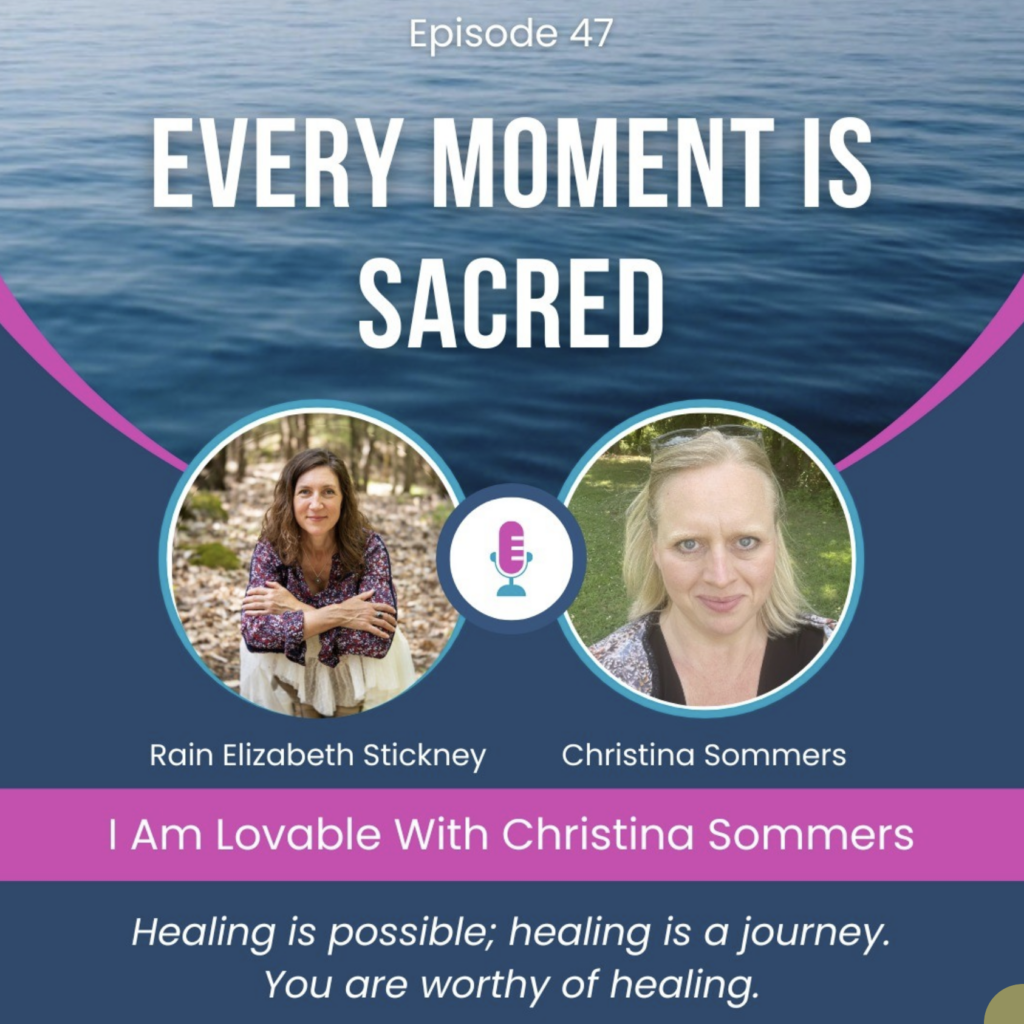 47. I Am Lovable With Christina Sommers (Healing Conversation)
70 Minutes | June 5, 2023
Healing from a toxic relationship, Christina Sommers discovers the superpowers of empathy and being a highly sensitive person. Together, we discover and affirm how lovable she is… as are we all. Christina Sommers is the host of the Loving Your Life Again podcast, a single mom to a 19 year old daughter, and she loves the outdoors. Christina is passionate about helping women find joy in the journey back to loving their lives again. After leaving a 10 year toxic marriage (19 year relationship) to a drug addict with narcissistic tendencies, she began her healing journey. She learned how lonely this journey can be and wants to bring awareness to others who are experiencing toxic relationships. Christina has a gift of guiding women into the best decisions for themselves; and then supporting them on the healing journey back into peace and joy. Christina is creating a community of like minded women, offering tips, tricks and tools to heal the body, mind and spirit. I invite you to enjoy her wisdom, humor, and experience as she openly explores what she has been through in recent time.
This healing conversation describes moments of domestic violence. Please reach out for help if you need support in a domestic violence situation.
National Domestic Violence Hotline: 800-799-7233
Conversation Begins – 5:36
Conversation Ends – 1:09:01
Connect with Christina:
Website: reloadinchrist.com
Podcast: Loving Your Life Again
Instagram: @reloadinchrist
Facebook: Reload In Christ
Wisdom Shared:
~ What ant thoughts are.
~ How manipulation leads to an absence of true self.
~ What to do when you have a panic attack.
~ Descriptions of short, mid, and long term experiences of trauma.
~ A reminder that even when you are in a moment of domestic violence, you are not alone.
~ What Emotional Freedom Technique (EFT) is and how to use it.
~ The importance of acceptance.
~ The connection between chronic pain and emotions.
~ The significance of aligning with your higher power.
~ Healing is possible! Healing is a journey. You are worthy of healing!!!
Rain's Healing & Meditation Offers:
Stillwater Meditation Online and In Person: rainelizabeth.org/stillwater-meditation
For a VIP Retreat experience, please email: meditation@rainelizabeth.org
2024 Summer Meditation Retreat: ⁠rainelizabeth.org/retreats⁠
Support this podcast: rainelizabeth.org/podcast
Thanks to my wonderful sound editor, Ferrara. She can be contacted at enantiodromia23@gmail.com.
I am also grateful for my amazing website designer, Abby Kojola at kojolapower.com.
Deep appreciation goes out to my late mother & very much alive stepfather who collaborated on and performed the music. Check out the album, My Oh My, for the full song, May Your Dreams Draw You Gently.
Thank you so much for your presence! xoxox